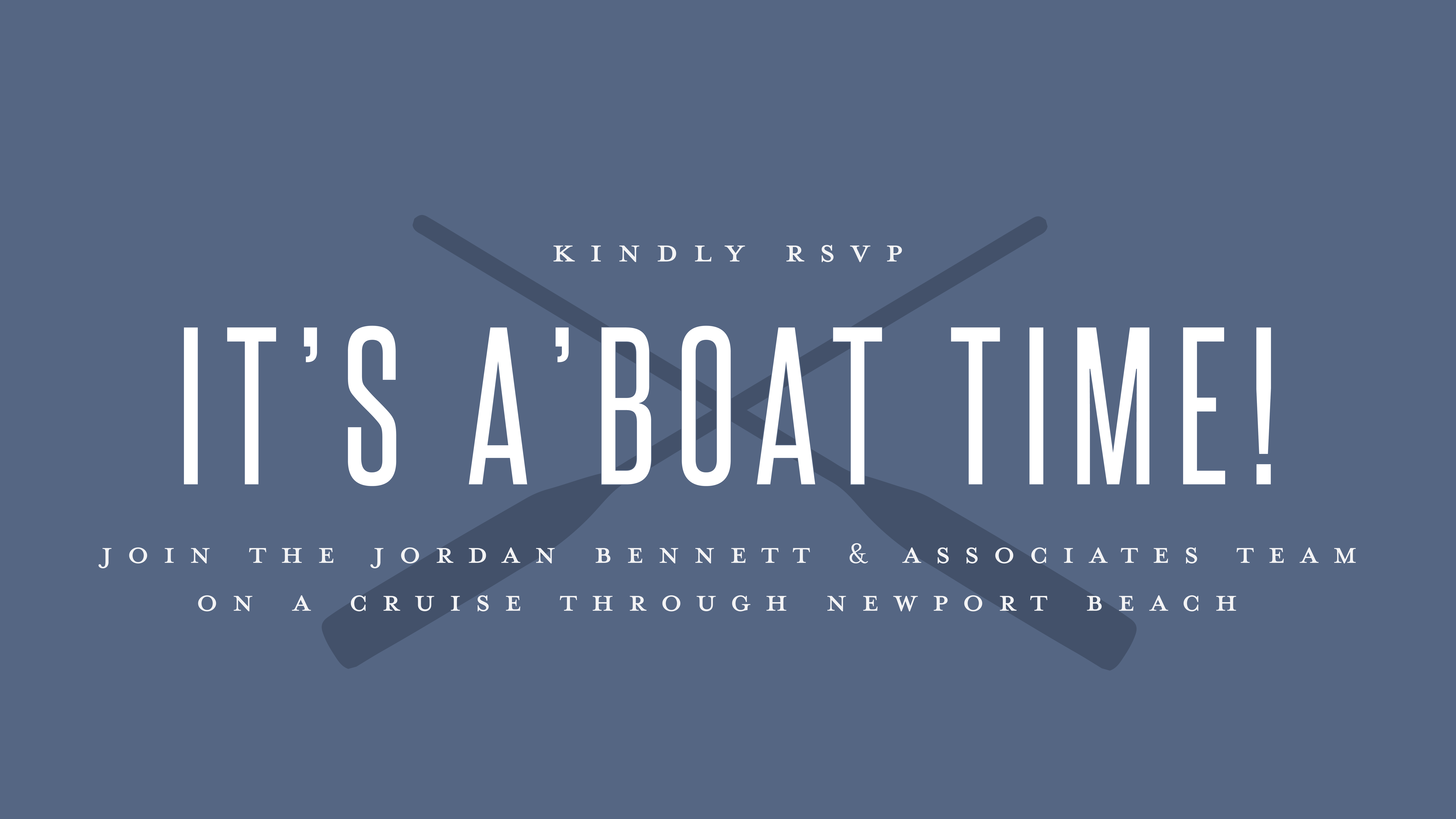 It's no sea-cret how much we have missed you!! To thank you for your continued support in such an unconventional year, and to celebrate the opportunity of seeing each other again, we invite you to join us on a cruise through Newport Beach!
The Jordan Bennett & Associates team welcomes you to come aboard a 65 ft. Coast Guard Certified yacht that will wind through beautiful Newport Harbor as we share hors d'oeuvres, drinks, entertainment and enjoy one of Orange County's unbeatable sunsets!
Last but naut least, let's ditch our covid comfy pants. Come dressed like you own the boat!
RSVP
Due to social distancing protocols, our guest capacity is extremely limited for this event. Reservations will be accepted on a first-come, first-serve basis, so we kindly recommend submitting an RSVP at your earliest convenience. We love your kids, but thought you may enjoy a night off - please no children.
**Due to an exciting amount of interest in this event, we are already at maximum capacity. Please feel free to continue to submit your response if you would like to be on a waiting list in case of a guest cancellation. We are also considering hosting a second cruise this year for those who missed out on the first one. Continue to RSVP using the button below so we can get an idea of how many people would like to join us for round 2!**

Please submit your response by May 7.
Event Details
When
Friday June 4, 2021 from 6-9 pm
Please plan to arrive at least 30 minutes prior to our departure time in order to give yourself sufficient time to find parking and get to the boat. We will begin boarding at 5:45 pm, and the boat will depart promptly at 6 pm. Please be punctual so you don't miss the party!
Where
Newport Fun Charters
2901 W. Coast Hwy, Suite 160 Newport Beach
Look for signs that will lead you right back to the water!
Parking
Parking is available FOR A FEE in the underground structure at the location; however, in their infinite wisdom, the parking company that manages the lot has decided to increase the rates to $20 per vehicle. Due to this, we have created an informational page that contains parking alternatives at: http://www.newportfuncharters.com/parking-information Please give yourself additional time if you decide to park further away, as our cruises do typically leave right on time.
Questions?
If you have any questions about this event, please forward them to Jordan at [email protected]
We cannot wait to see you and enjoy an evening together again!
Enter to Win a Weekend Getaway!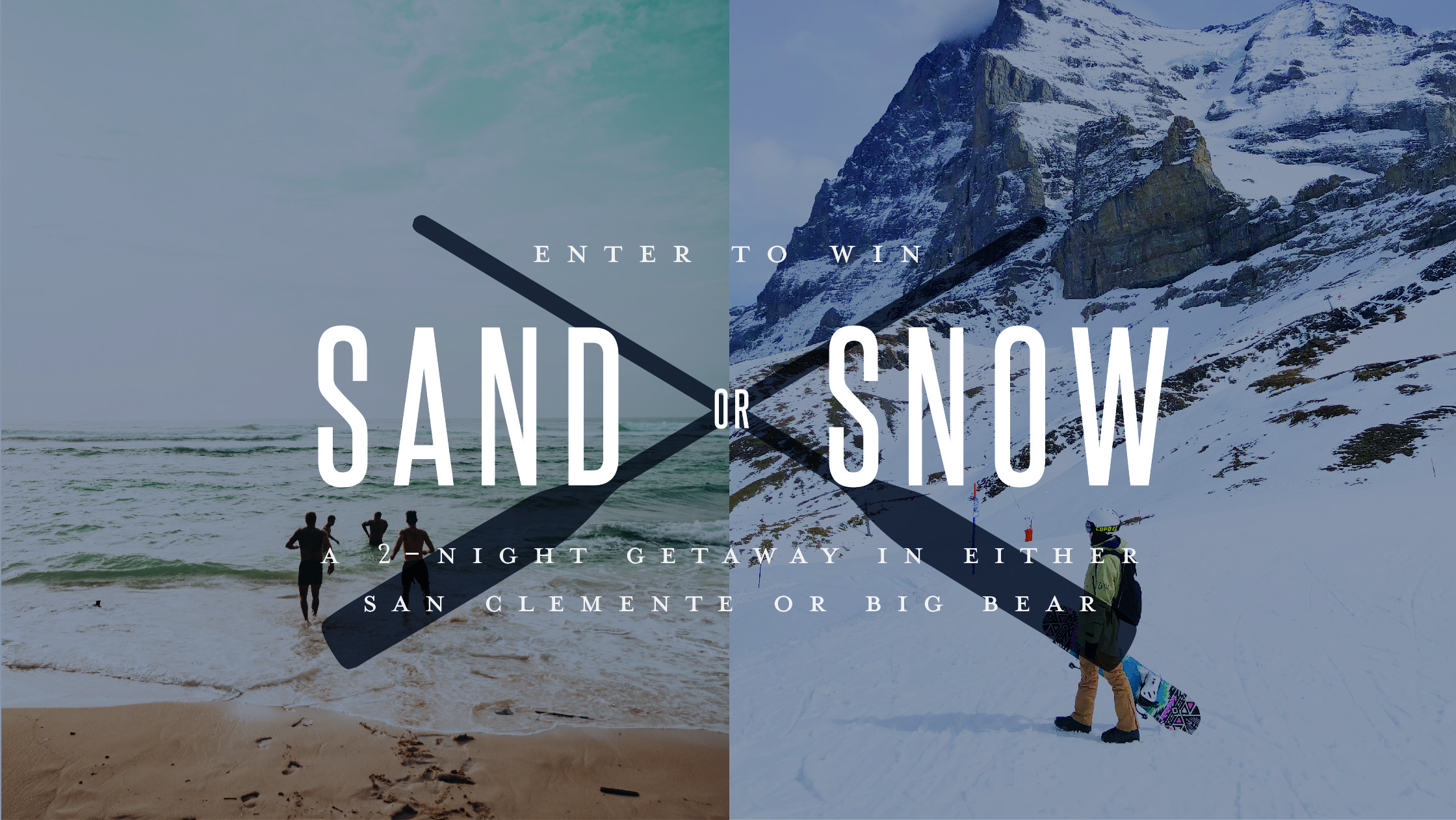 Who do you know that is looking to buy or sell their home or invest in real estate? Refer your friends, family members and business partners to our team for a chance to indulge in a 2-night getaway! Referrals are the heart of our business and we so appreciate your support and trust in our team, so we want to thank you!
How to enter: If you have sent us any referrals in the last 12 months, you are already in the runnings! If not - no worries! - you will have an opportunity to do so through the night of the cruise. Your name will be entered once per referral you send our way. The winner will have their pick at a two-night stay* in either San Clemente OR Big Bear, and receive a $100 gift card to a local restaurant depending on their destination.
*Select dates apply.
Have a referral now? Fill out the form below and drop your referral information in the comments section!